Cavalry Hats
The tradition and history of the cavalry hat dates back to 1964 when the hat was adopted in an effort to increase esprit de corps in the new air cavalry squadron. The cavalry hat was meant to emulate the look of the 1876 pattern campaign hat worn by cavalry troopers long ago.
The custom of wearing the cavalry hat spread to virtually all cavalry units when troops were deployed to Vietnam. While unit commanders did not mandate the wearing of the cavalry hats, there was considerable peer pressure to conform, and most troopers added the cavalry hat to their wardrobes.
Today the regulations governing the order of the spur are set by each cavalry commander. The practice falls under what the Army officially recognizes as a tradition. According to the Soldier's Guide military tradition "gives a soldier a feeling of pride to understand just why we do things the way we do. Traditions are expressed in the things we do, the uniform we wear, and the things we say.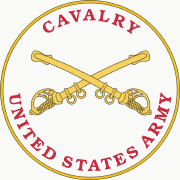 ---
Refine Search