Style: 055 Doc Holliday II Hat


Material: 7X Fur Felt
Brim: 3 1/4" or 4" Bound edge rolled slight up turn
Crown: 4 5/8" Center Dent
Band: 1/2" Grosgrain Band
Color: Black
Sizes: 6 1/2 - 7 7/8


Note:

This hat comes with an inside leather sweatband, is satin lined, and
Made in the U.S.A.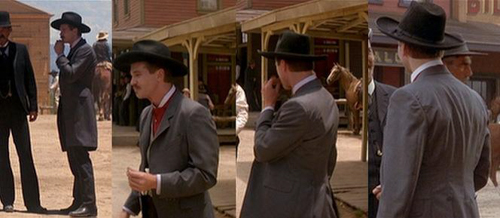 Whether he's strolling through town or riding through the mountains with a posse, Doc always has one constant: his black hat. This wide-brimmed felt "cowboy" hat has a rolled, slightly upturned brim that is curled higher on the left. There is a narrow black satin grosgrain band with a bow and a pinched dent in the crown.
Style: 055 Doc Holliday II Hat
Brand: Miller Hats
Product Code: 055
Availability: In Stock
Related Products
Tags: Center Dent, 7X Fur Felt, Bound edge, Fur Felt, Fur Felt Hats, Fur Felt Hat, Hat, Hats, Doc Holiday Hats, Movie Hats, Movie Hat, Doc Holliday II Hat,